February 03, 2023
Author: Techo-Bloc
When a bare mountainous landscape is transformed into a serene escape you call home, our mission is accomplished.
Pair modern paving stones with elements such as earth, water, air, and fire, and you have mother nature meeting modern style.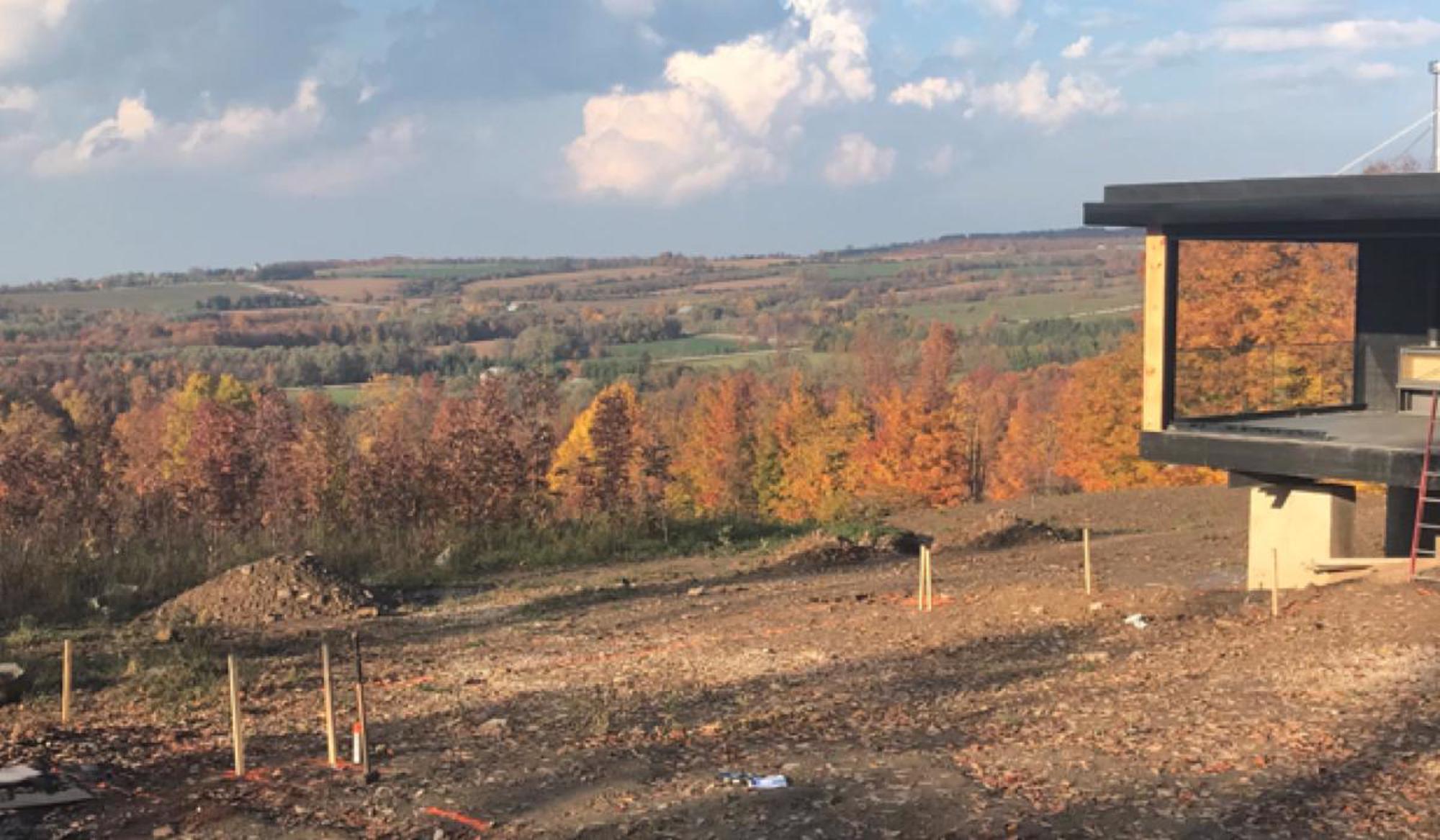 BEFORE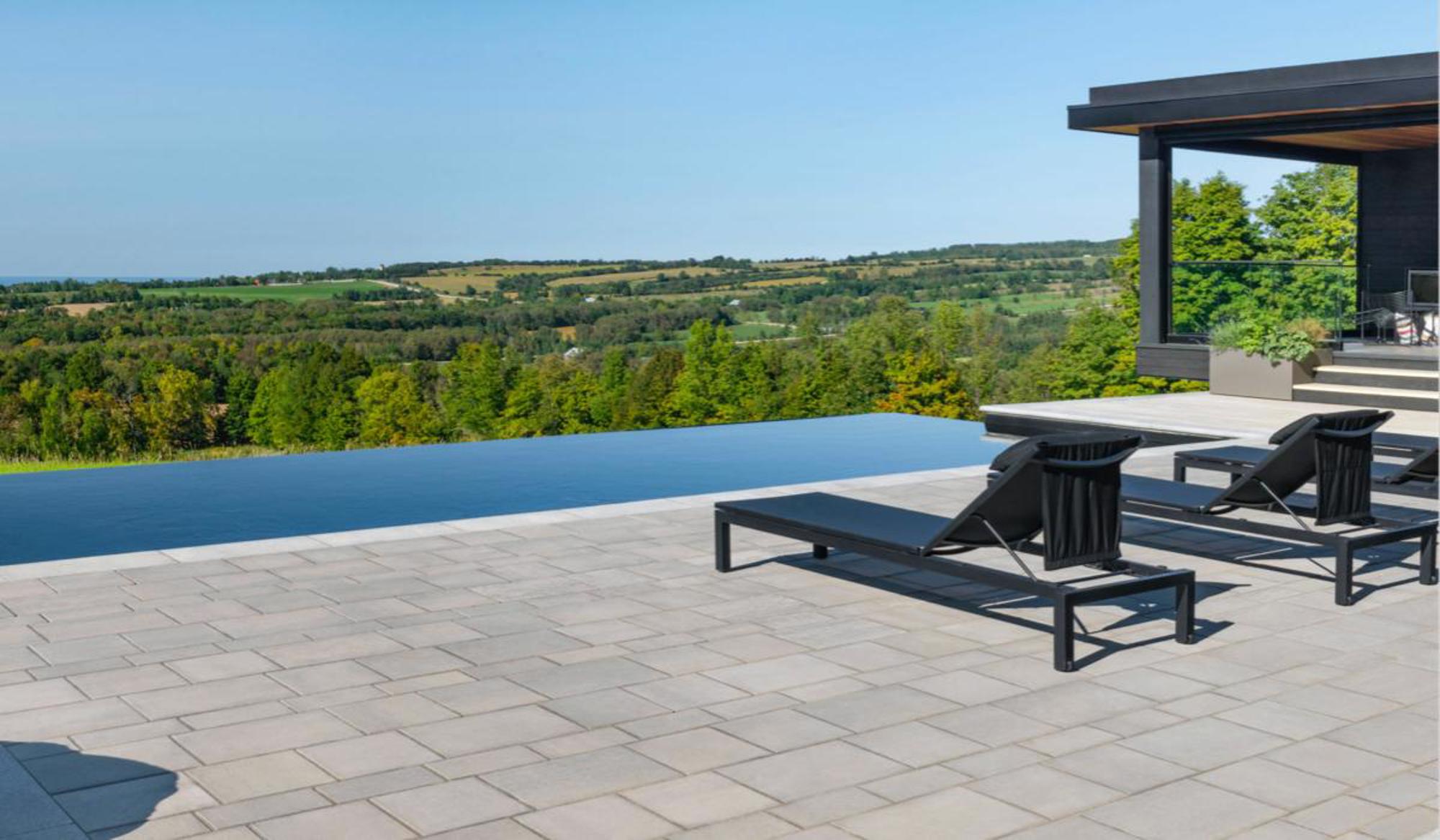 AFTER
Welcome your guests in style with an elegant and refined entrance featuring an Industria Smooth walkway and Raffinato stone steps. The colors chosen for the pavers and the steps blend perfectly with the overall aesthetic of the home, and the modern look and feel are in complete osmosis with the surrounding nature. The perfect pairings between Techo-Bloc's different products is something you will appreciate in your own unique décor. The sleek and polished appearance of this pavement will be looked upon like a piece of art.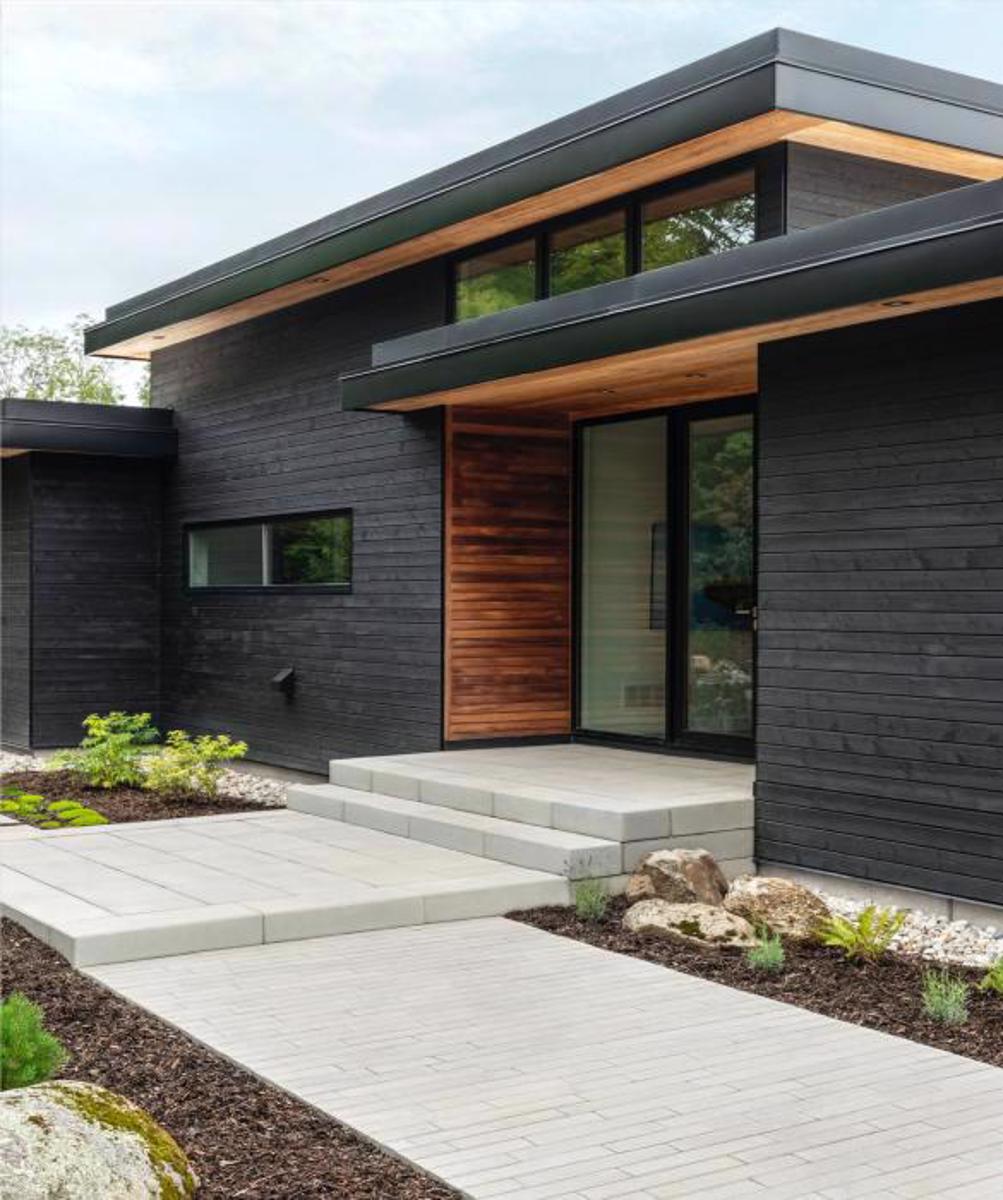 This mid-century home stands in the middle of nature, where fusion between mountains and concrete is made possible. In addition, this nature-filled space requires very low maintenance when it comes to the vegetation and stone arrangements. With good planning and carefully chosen products, the perfect modern backyard awaits you. Your outside living area will be your favorite place to be, as you unwind and appreciate nature at its best. The Techo-Bloc pavers, steps collections and fire features can recreate this relaxing and desertic ambiance.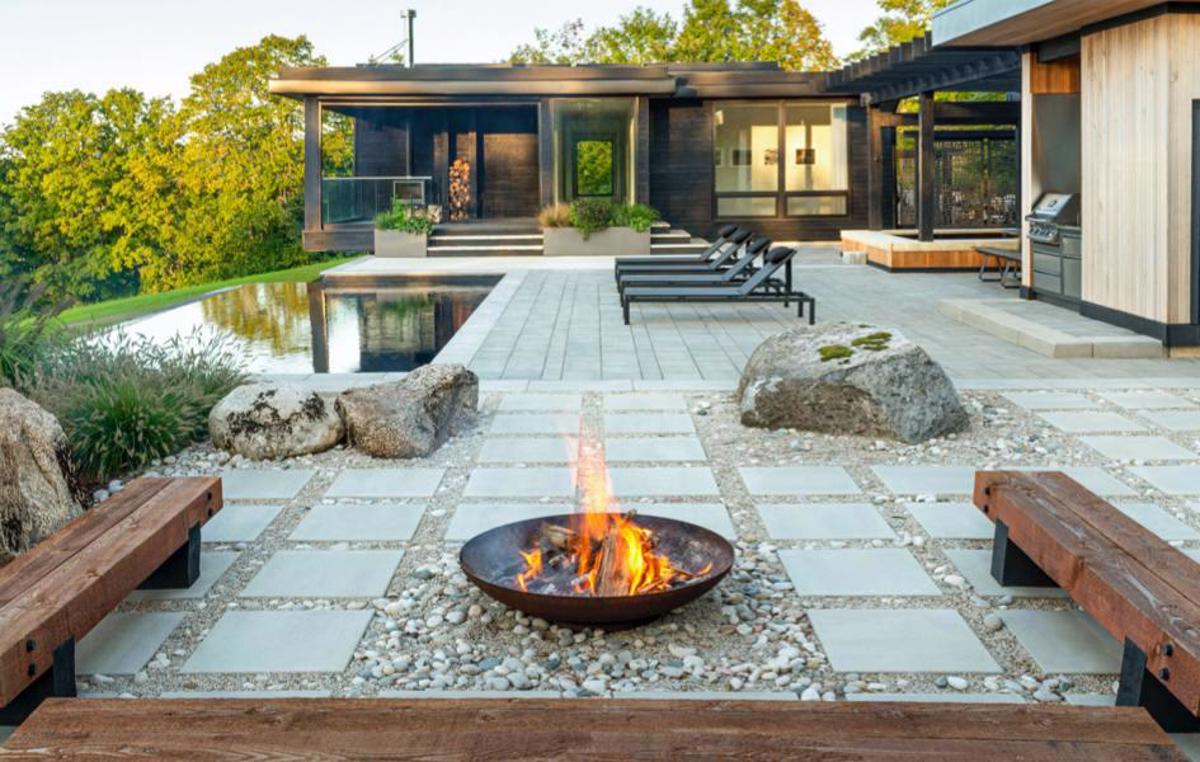 Bring a modern touch to this mountainside view. The landscape incorporates a pool to cool off during the warm and humid days, a lounge area for relaxing, and a barbecue for al fresco meals with your family. And once the sun starts to set, grab a seat, and experience pure bliss by the fire pit that brings you warmth during the chilly evenings.
The pairing of stepping and decorative stones blends seamlessly with the surrounding natural stone. By paving the way with the perfect angles of the Techo-Bloc Industria Smooth slabs, the wild landscape is given a notion of structure. All this comes with low-upkeep landscaping.
The low maintenance plants like moss and cedar chips around the stepping stones on the side of the home adds just the right touch of green to bring a bit of life to this otherwise very desert-like design. The pebbles used to fill the negative space contrast with the scale and texture of the large slabs and everything seems to perfectly sit in this type of climate and setting. Also, the stylish decorative fences add a feel of intimacy and a elegant note to this desertic décor. This mid-century modern home in the countryside offers a haven of serenity with remarkable and diverse landscape features which are durable and elegant. The homeowners will enjoy this corner of paradise for years to come.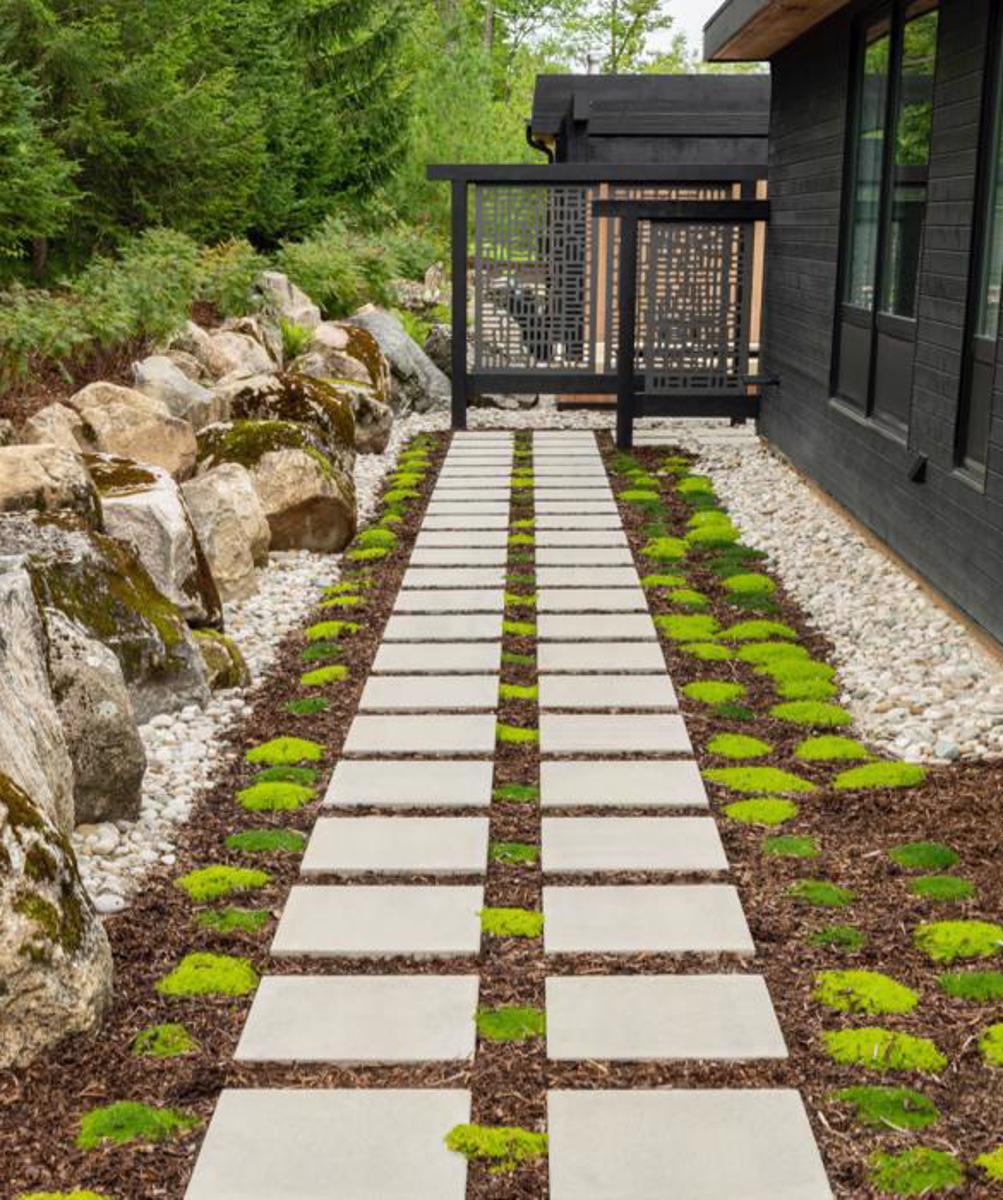 Featured products in this project