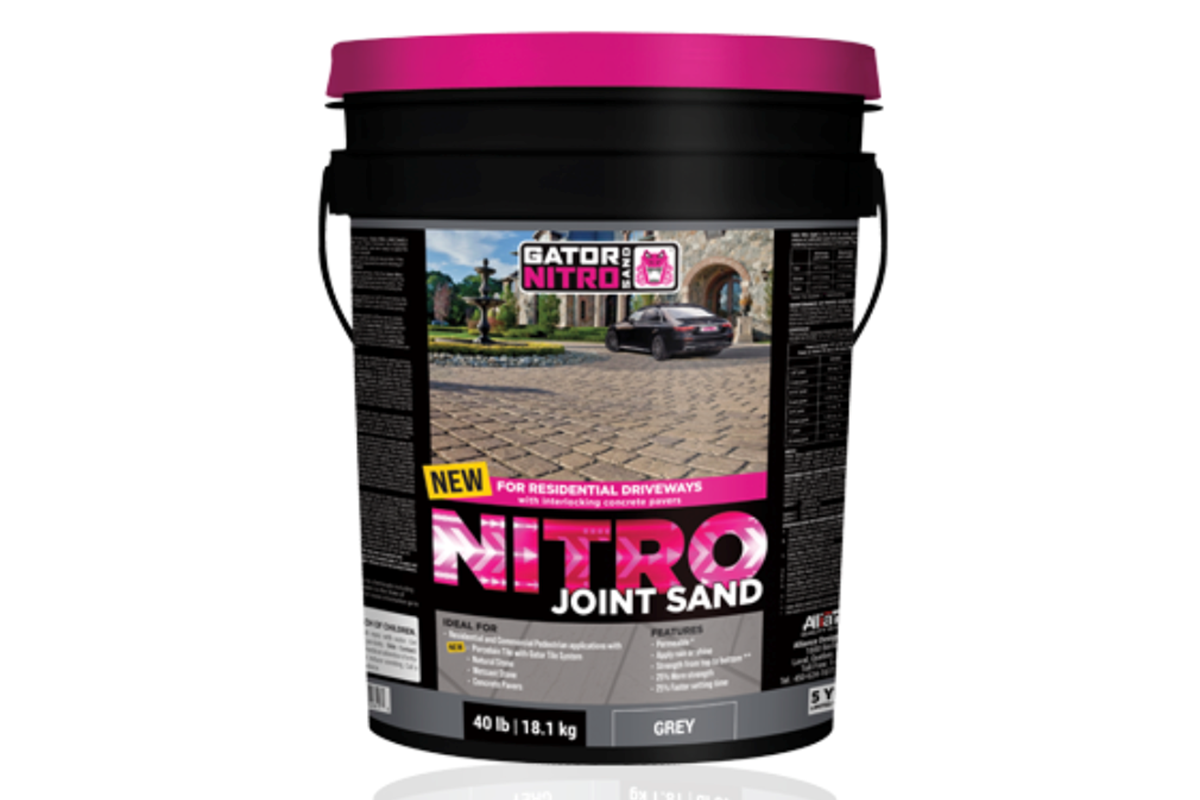 Gator Nitro Sand
| | |
| --- | --- |
| Brand | Alliance |
| Material | Jointing Material |
GATOR NITRO JOINT SAND is the ideal air cure, permeable jointing material. It is a ready-to-use mixture of calibrated sand and proprietary resin formula which cures when exposed to air, hardening from top to bottom of the joint. The product can be installed in wet or dry weather.
PREPARATION INFORMATION (IMPORTANT NOTES)
Always refer to the latest GATOR NITRO JOINT SAND

 

Technical Data Sheet (TDS) at AllianceGator.com before installing.
GATOR NITRO JOINT SAND can be installed rain or shine. Paving surface must be pre-wet before installation and must remain wet throughout the installation process or staining may occur.
GATOR NITRO JOINT SAND is an extremely strong and rigid jointing material, please ensure there is ABSOLUTELY NO paver or stone or outdoor porcelain tile movement prior to installation in order to prevent joint cracking.
For pedestrian and vehicular applications.
GATOR NITRO JOINT SAND must be installed above 37°F (3°C).
Working Time: Approximately 45 minutes.
GATOR NITRO JOINT SAND can only be used on a drainage base application. In a non-drainage base application, GATOR NITRO JOINT SAND cannot be used.
Paved surface can be used after 18 hours.
Avoid power-washing for a minimum of 28 days after applying.

IDEAL FOR
Residential and Commercial Pedestrian applications with:
Porcelain Tile with Gator Tile System
Natural Stone
Wetcast Stone
Concrete Pavers
Residential driveways with interlocking concrete pavers
Based on manufacturer assigned sales territories, product availability may vary by location.