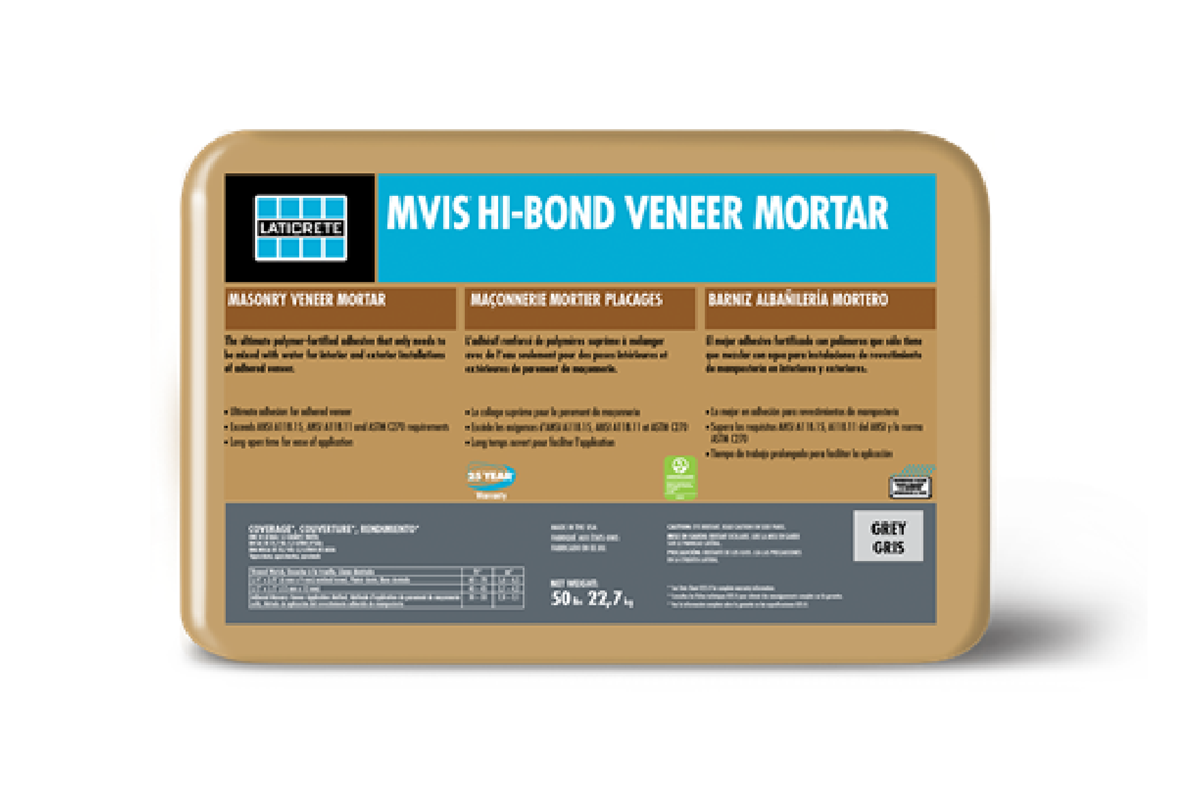 MVIS™ Hi-Bond Veneer Mortar
| | |
| --- | --- |
| Brand | Laticrete |
| Material | Mortar |
| Colors | Grays |
Features & Benefits
Ultimate adhesion for masonry veneer
Incredible bond to exterior glue plywood* and concrete
Excellent shear bond strength
High performing
smooth and creamy formula
Equipped with anti-microbial technology to protect the treated article
Exceeds ANSI A118.4
ANSI A118.11 and ANSI A118.15
Exceeds ASTM C270 compressive strength requirements for masonry veneer installations
Passes IBC and IRC shear bond strength code requirements for adhered masonry veneer when tested in accordance with ASTM C482
Conforms to ISO 13007-1 with a classification of C2TES1P1
LATICRETE®

 25 Year System Warranty (United States and Canada) for masonry veneer installations over concrete and masonry substrates**

* Interior Only.
** When used as a component of the LATICRETE®

 25 Year System Warranty (United States and Canada) (DS 025.0)
The ultimate, polymer fortified, thin-set mortar for interior and exterior installation of masonry veneer, stone, ceramic tile, quarry tile, pavers and thin brick. MVIS Hi-Bond Veneer Mortar, designed to mix just with water, has a long open time with unsurpassed adhesion and workability.
Product #: 9354-0050-21
Packaging Sizes:50 lb bag (22.7 kg); 56 bags per pallet
Color: Grey
Part of System: MVIS™
Based on manufacturer assigned sales territories, product availability may vary by location.